This review was originally published on 3/17/2011
Today I have another XFX Core Edition power supplies. We've done the 650W, 750W and 850W so far. Now it's time for an even lower wattage unit: the 450W.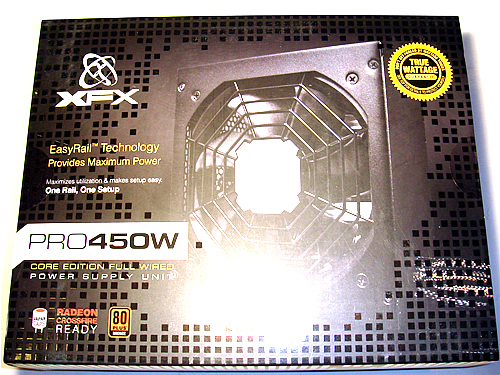 XFX's Core Edition power supplies are basic, fixed-cable power supplies. As with the other Core Edition power supply I reviewed, the box has both glossy and matte finishes which I have a particularly difficult time photographing.
On the front of the box, we are reminded once again about "EasyRail Technology". If you want to read about what "EasyRail Technology", check out one of the previous XFX Core Edition power supply reviews where it is covered ad nauseam. This panel of the box also says that this power supply has Japanese capacitors, is Radeon Crossfire ready and is 80 Plus certified. There's also a star burst claiming a "True Wattage Guarantee", which essentially means this power supply's 450W rating is continuous and not peak.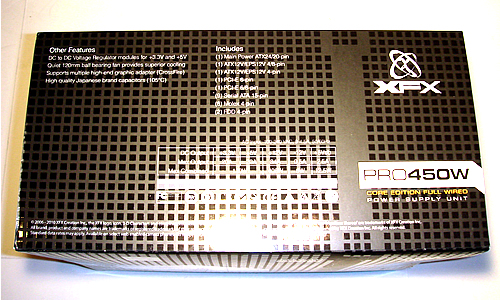 On this side panel, we see the DC output table and we're told, in an "other features" blurb, that this unit uses DC to DC for the +3.3V and +5V. We've come to expect DC to DC VRM's for non-primary rails these days. Essentially, you have a +12V power supply and for these non-primary rails, voltage regulator modules (VRM's) step down ("buck") the +12V to either +3.3V or +5V rails. Typically, when this is done, almost 100% of the PSU's power capability are on the +12V rail. But in this case, only 408W is available on the +12V rail. When you add the 12.5W available on the +5VSB and the 6W available on the -12V rail, you end up with only 426.5W. This is rather odd for a unit that supposedly uses DC to DC and tells us.. well.. it's not "really" a 450W PSU. Probably more like "420W".
Since my photo sucks and you can't make out the DC output table, here's a representation of it:
XFX Pro 450W

+3.3V

+5V

+12V

-12V

+5VSB

20A

20A

34A

0.5A

2.5A

Max Power

120W

408W

6W

12.5W

450W
And now for the back of the box...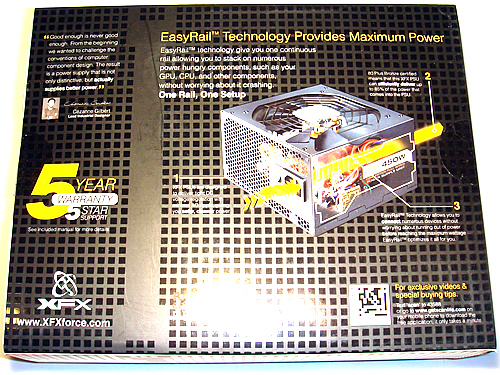 Here they just drag out some of the bullet points into marketing fluff. There's also a picture of some dude with his arms crossed. He's saying something. We're also told that we get a 5 year warranty with this power supply. That is, as long as we don't open it up. Since I tend to open up power supplies in these review, I don't think I'll get to enjoy my 5 year warranty.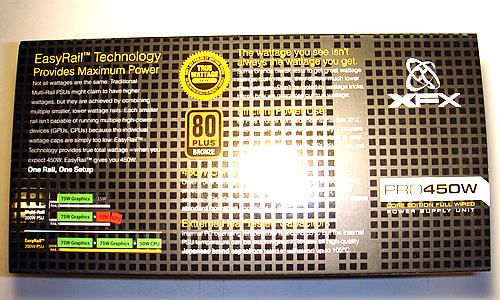 This side panel, for the most part, just reiterates what we've been told on the other panels: EasyRail Technology, True Wattage Guarantee, 80 Plus Bronze, but finally we're told that the Japanese capacitors are rated at 105°C. This is significant as most, mainstream power supplies use capacitors rated at 85°C. Although its not likely that the internal temperatures of the PSU will get this hot, the higher temperature rated capacitors do tend to last a lot longer.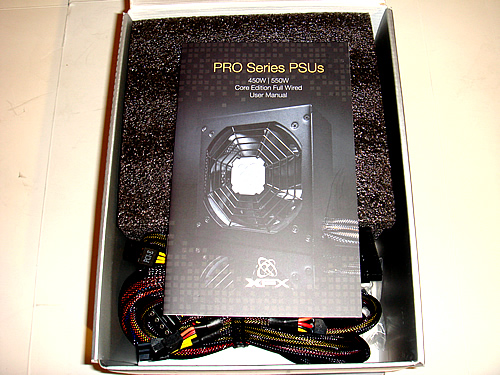 Opening the box exposes a user manual. The manual is 15 pages and is only in English. Sorry Manchu. No Manchu for you. Three pages of the manual are marketing bullet points. One page has safety notes (don't open the power supply, don't stick foreign objects in the power supply, etc). Two pages have power supply removal and reinstallation instructions. 1 page covers the warranty and the last four pages covers specifications like operating temperature, safety approvals, connector pinout diagrams, etc. Yeah... that's only 11 pages. What's on the other four pages, I'm leaving as a surprise.
We can also see that the power supply is encased in foam this time. If you remember our previous XFX power supply reviews, one of our big complaints was how the power supply came in a huge box, yet offered no protection to the power supply. You never know who is throwing your boxes around before they get to you, so knowing your power supply is fully protected in foam is a big plus.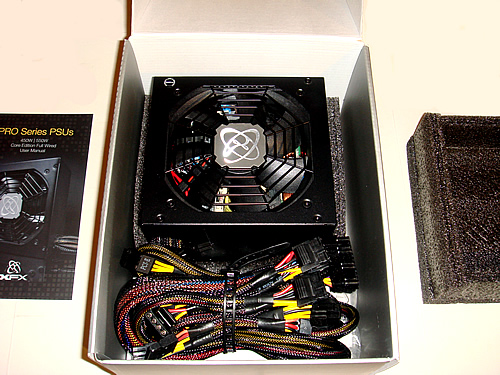 As we move the manual out of the way and take off the top half of foam, we expose the power supply and all of the cables. Below is a table showing all of the cables that come with this power supply. Also, despite all the real estate on the box and redundant marketing fluff, it seems that XFX missed an opportunity to give the dimensions of the unit. I have that information below as well.
XFX Pro 450W

Type of connector:

Quantity:

20+4-pin ATX connector (550mm)

1

4+4-pin ATX12V/EPS12V (550mm)

1

8-pin ATX12V/EPS12V (550mm)

1

6-pin PCIe (570mm)

1

6+2-pin PCIe (600mm)

1

SATA (1 cable w/ 3 connectors) (550mm+130mm+130mm)

3

SATA (1 cable w/ 3 connectors) (370mm+130mm+130mm)

3

5.25" Peripheral Power Connector (1 cable w/ 3 connectors each) (550mm+130mm+130mm)

3

5.25" Peripheral Power Connector (1 cable w/ 3 connectors each) (370mm+130mm+130mm)

3

3.5" Drive power adapter (+140mm)

2

Unit Dimensions(L x W x H)

140mm x 86mm x 150mm
You'll note that the unit is only 140mm deep. That's about as small as you can get when using a 120mm fan.
Interestingly enough, this little 450W PSU has multi-CPU support. The manual has an error in it in that they say there's one 4-pin and one 8/4-pin (aka 4+4-pin), but in actuality, the PSU has a dedicated 8-pin, as well as the 4+4-pin power connector. Also note that XFX has deliberately chosen to vary the lengths of the PCIe, SATA and peripheral cables.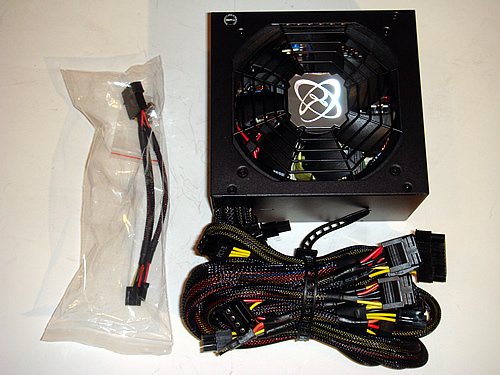 The floppy power connectors are not attached to the power supply. The two 3.5" peripheral power connectors are obtained by using the included adapter shown above.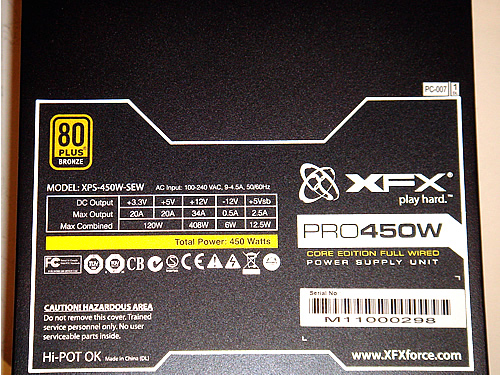 Now let's go ahead and do some load tests...